From Annapolis to Bel Air and points west in the Archdiocese of Baltimore, the annual March for Life Jan. 29 was observed, despite the coronavirus pandemic.
The 48th annual event in Washington, D.C., went virtual, due in part to COVID-19 and, according to Catholic News Service, "unprecedented security … following the riot at the U.S. Capitol Jan. 6."
At St. Andrew by the Bay in Annapolis, nearly three dozen people gathered Jan. 28 for a Vigil for Life led by Father Andrew DeFusco, pastor. The rosary was prayed; a cantor sang "Ave Maria"; and the faithful sat in prayer in front of the Blessed Sacrament, keeping vigil for the unborn children lost to abortion. 
Quiet enveloped the sanctuary after "A Litany of Life" was prayed together. The litany, from the U.S. Conference of Catholic Bishops, is based on St. Paul's first letter to the Corinthians.
The congregation prayed for God to "To help us see all our brothers and sisters as worthy of all our love," and to give those who govern a generous spirit, "That our country may not so much seek to be great as to be good."
Participants ended the 16-refrain litany by asking God to "bring victory to all who seek to love as you have commanded them."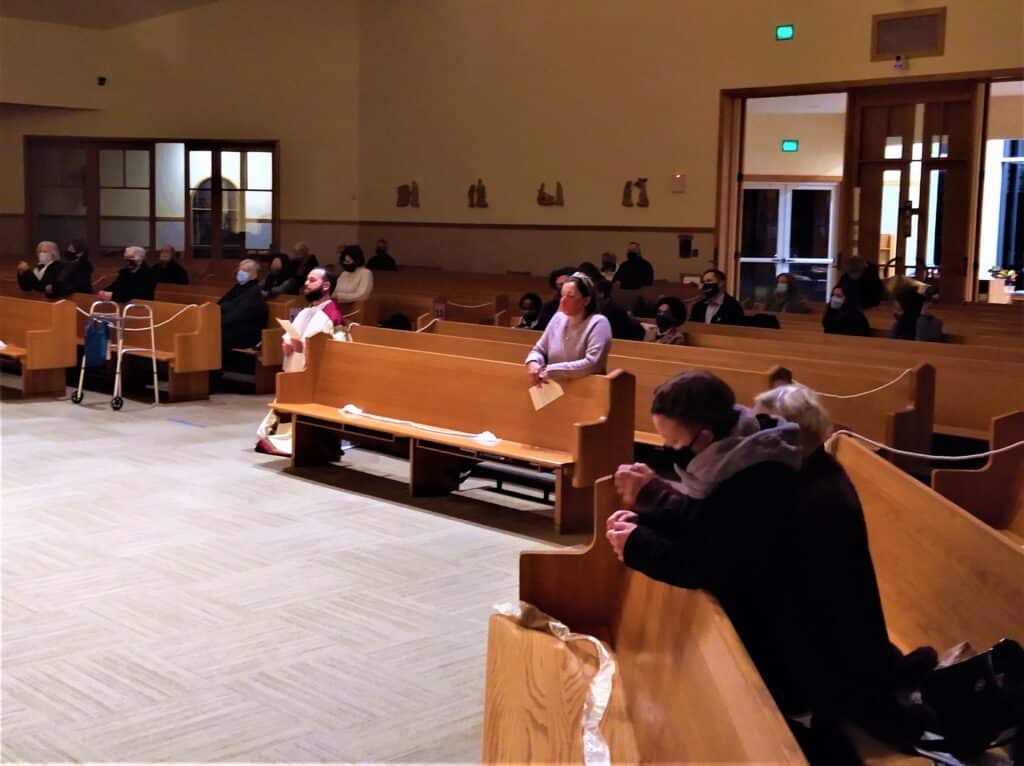 Those who had come together before the exposed Eucharist looked to be a mostly younger group of worshipers. They sat and knelt before Jesus. The gold monstrance sat on an altar decked with white linen and illuminated by nearly 50 candles.
St. Andrew's has experienced a spike in the number of people attending weekly adoration.
"We started in Lent and people were interested in keeping it going," said the parish's sacristan, Martha Monaghan. "We don't do adoration unless we can guarantee two people for every half-hour slot. We have filled them when we do it on Wednesdays normally. It's really coming on strong."
The special Vigil for Life was initiated by the parish's Respect Life Committee, Monaghan said.
"I thought it was wonderful," Father DeFusco said of the vigil, which was livestreamed. "We had a good crowd of people who know it's all about prayer. The foundation of all our ministry in the church – the Respect Life ministry – it all begins with worship to God and thanksgiving to him for the gift of human life."
St. Andrew's was holding adoration from 9:30 a.m. to 4 p.m. Jan. 29, in continued solidarity with this year's virtual March For Life.
"We've got to be safe and responsible, we still need to do what we can," Father DeFusco said. "When each of us know that the other is out there praying, we're united in spirit."
His brother, Father Matthew DeFusco, helped St. Margaret in blustery Bel Air honor the occasion with a walk with the Blessed Sacrament through the Harford County seat. After 8:30 a.m. Mass, where Father Matthew DeFusco is an associate pastor, approximately 250 people marched to Main Street and past Birthright.
The group paused at the pregnancy support center, where a van with supplies such as diapers and baby clothes was unloaded, and Father DeFusco offered a blessing.
St. Philip Neri in Linthicum Heights was scheduled to hold a similar march. Parishioners of St. Ann and St. Mary in Hagerstown did the same Jan. 22. 
Our Lady of the Fields in Millersville, Sacred Heart in Glyndon and St. Francis Xavier in Hunt Valley were among other parishes open to adoration Jan. 29. 
Kevin J. Parks contributed to this article.
Copyright © 2021 Catholic Review Media

 Print